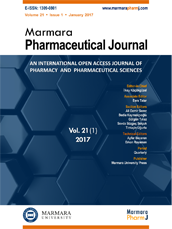 Editor-in-Chief
Hatice Kübra Elçioğlu
Vice Editors
Levent Kabasakal
Esra Tatar
Online ISSN
2630-6344
Publisher
Marmara University
Frequency
Bimonthly (Six issues / year)
Abbreviation
J.Res.Pharm.
Former Name
Marmara Pharmaceutical Journal
Journal of Research in Pharmacy
2023 , Vol 27 , Issue 2
Qualitative and quantitative evaluation of the marketing Passiflora incarnata L. formulations in Turkey
1Department of Pharmacognosy, Faculty of Pharmacy, Trakya University, Balkan Campus 22030, Edirne, Türkiye
2Department of Pharmacognosy, Faculty of Pharmacy, Yeditepe University, Kayışdağı 34755, İstanbul, Türkiye
DOI :

10.29228/jrp.343
Passiflora incarnata L. (Passifloraceae) has been traditionally used to treat ailments such as dysmenorrhoea, insomnia, epilepsy and neuralgia. In this study, qualitative and quantitative analyses of P. incarnata products in the Turkish market were studied via High-Performance Thin-Layer Chromatography (HPTLC) and High-Performance Liquid Chromatography (HPLC) and vitexin, isovitexin, orientin and isoorientin were used as bioactive marker compounds. Seven herbal tea samples (T1-7) composing P. incarnata herb, eighteen capsules/tablets/powders (C1-18) and four syrups (S1-4) containing P. incarnata extract were purchased from pharmacies, markets, herbalists or ecommerce websites in Turkey. Comparing HPTLC fingerprinting profiles of the reference plant (P. incarnata) with the samples indicated that only T1, C1-C3, C5, C7, C11, C12, C14, C15 and S1 showed similar chemical fingerprints with the reference plant material. On the HPLC analysis, the total ratio of investigated compounds was 6.33% and 2.08% in hydroalcoholic (70% EtOH) and aqueous extracts of reference P. incarnata, respectively. Furthermore, hydroalcoholic extract of T1 was found to possess higher content (6.40%) than other tested tea samples (T2-6). However, based on the morphological characteristics, the tea sample (T7) was identified as Jerusalem thorn (Paliurus spina-christi) fruits. Among the food supplements (C1-18), only nine were determined to contain the reference molecules (3.301-0.827%), consistent with HPTLC results, and C1 exerted the highest total percentage. To conclude, most of the marketing P. incarnata products in Turkey were adulterated or contained lower amounts of bioactive components.
Keywords :

Passiflora incarnata; Passifloraceae; High-Performance Thin-Layer Chromatography; High-Performance Liquid Chromatography; Quality control