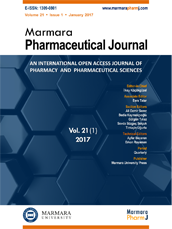 Editor-in-Chief
Hatice Kübra Elçioğlu
Vice Editors
Levent Kabasakal
Esra Tatar
Online ISSN
2630-6344
Publisher
Marmara University
Frequency
Bimonthly (Six issues / year)
Abbreviation
J.Res.Pharm.
Former Name
Marmara Pharmaceutical Journal
Journal of Research in Pharmacy
2023 , Vol 27 , Issue 2
Polymers for designing 3D Printed Pharmaceutical Products
1University Institute of Pharma Science (UIPS), Chandigarh University, Gharuan, Mohali, Punjab, 140413, India
2Himalayan Institute of Pharmacy, Kala Amb, Himachal Pradesh, 173030, India
DOI :

10.29228/jrp.341
Computer-aided pharmaceutical product manufacturing is the process of creating three-dimensional drug products for a given API in a layer-by-layer process using a suitable binder solution; the process is commonly known as 3D printing. Earlier conventional pharmaceutical methods like tablet compression were utilized in combination with the well-established new procedural advancements for years. These systems are very well accepted. but they are challenging in terms of capability of fabrication flexibility, especially in the cases where there is a very narrow window for selection of excipients for product manufacturing due to incompatibility of API and an excipient. Ease of design and fabrication of complex structures is the key benefit of 3D printing along with the capability of customized product manufacturing for a specific patient or class of patients in the segment of personalized medicine concept. These benefits open the door to new ways to improve drug stability, efficacy, and accessibility. 3D printing technology for manufacturing solid oral dosage forms differs from traditional manufacturing methods and offers an extra benefit of possibility to create risk-based products. In this innovative approach of product development the biocompatible and biodegradable polymers play a very important role as it directly influences the product utilization and efficacy parameters. This article emphasizes polymers that can help in the designing of an automated process of manufacturing the pharmaceutical products using this tool of 3D printing.
Keywords :

3D printing; formulation design; pharmaceutical product; Polymers