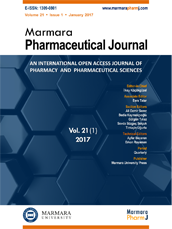 Editor-in-Chief
Hatice Kübra Elçioğlu
Vice Editors
Levent Kabasakal
Esra Tatar
Online ISSN
2630-6344
Publisher
Marmara University
Frequency
Bimonthly (Six issues / year)
Abbreviation
J.Res.Pharm.
Former Name
Marmara Pharmaceutical Journal
Marmara Pharmaceutical Journal
1991 , Vol 7 , Issue 2
The rana ridibunda skin secretion: Its antifungal effect on morphology and on DNA synthesis of the normal embriyonic fibroblast cells and chemically induced tumor cells of rattus norvegicus in culture and its purification
The extract (SSE) obtained from the skin secretion of the water frog Rana ridibunda was purified by 95% cut (NH4)2SO4 precipitation, Sephadax G25 or G75 and DEAE Sephadex A25 column chromatographies. All of the biological activities were peresent in II. protein fraction of Sephadex G75 column chromatography. Antibacterial, antifungal, DNA synthesis inhibitor activities were present in the I. protein fraction of DEAE Sephadex A25 column chromatography whereas the II. protein fraction has glycoprotein structure with fibrinolytic system inhibitor activity.

Besides the antibacterial activity of the extract, the fungal activity against 11 fungi strains (Candida albicans 7650, C.parapsilosis KUEN 1010 (Y) C1-12-1,C. krusei KUEN 1001 (Y)C1-6-3,C. albicans klaur A-2,C. albicans, C. tropicalis KUEN 1022 (Y)C1-19-3, C. stellatoidea KUEN 1018 (Y)C1-18-1,C.albicans MIV-211, Cryptococcus neoformans KUEN 1047 (Y) C2-1-9, Rhodotorula glutinis KUEN 1064 (Y)R1-1-1, Saccharomycea cerevisiae, dermatofites Microsporum nanum KUEN 1089 (F) M5-6-1, Trichophyton mentagrophytes 703.) was also detected. This extract was ineffective against Torulopsis glabrata. A short review of this topic is also included.
Keywords :