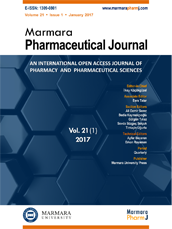 Editor-in-Chief
Hatice Kübra Elçioğlu
Vice Editors
Levent Kabasakal
Esra Tatar
Online ISSN
2630-6344
Publisher
Marmara University
Frequency
Bimonthly (Six issues / year)
Abbreviation
J.Res.Pharm.
Former Name
Marmara Pharmaceutical Journal
Journal of Research in Pharmacy
2022 , Vol 26 , Issue 6
Diagnostic features of raw materials of related Equisetum species of Ukrainian flora
1Department of pharmacognosy and botany, Pharmaceutical faculty, Bogomolets National Medical University, 22 Pushkinska Street, Kyiv, Ukraine
2Department of systematic and floristic of vascular plants, M.G. Kholodny Institute of Botany of the NAS of Ukraine, 2 Tereshchenkivska Street, Kyiv, Ukraine
DOI :

10.29228/jrp.268
A comparative morphological and anatomical study of six Equisetum species (Е. arvense L., E. fluviatile L., E. palustre L., E. рratense Ehrh., E. sylvaticum L. and E. telmateia Ehrh.) was carried out using light and scanning electron microscopy to investigate the species-specific diagnostic features of their raw organs for distinguishing between the taxa. The main diagnostic features that allow identifying the belonging of whole (uncrushed) raw materials of Equisetum are the presence/absence of spore-bearing organs and spores, the number of branches ribs, the ratio of the length of the branch internode to leaf whorl of stem and the ratio of the central cavity diameter of the stem to the stem diameter. The ultrastructure of the surface of stems and branches of model species contains a number of diagnostic features, which together allow determining the species affiliation of raw materials correctly. The most significant diagnostic characteristics of Equisetum species are cuticle structure, location, and shape of mamillae and papillae, presence and localization of stomata, features of silica warts on stomata subsidiary cells, siliceous outgrowths on the ribs top (ridge) of stem and branches. The linear dimensions of epidermal cells, stomata and silica structures, the size of the ribs and the central cavity of the stem have secondary importance for the identification of individual species.
Keywords :

Equisetum, raw materials, diagnostic features, papillae, mamillae, silica warts