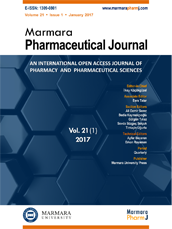 Editor-in-Chief
Hatice Kübra Elçioğlu
Vice Editors
Levent Kabasakal
Esra Tatar
Online ISSN
2630-6344
Publisher
Marmara University
Frequency
Bimonthly (Six issues / year)
Abbreviation
J.Res.Pharm.
Former Name
Marmara Pharmaceutical Journal
Journal of Research in Pharmacy
2022 , Vol 26 , Issue 6
Development and evaluation of taste masked orally disintegrating tablets of pioglitazone hydrochloride
1Institute of Pharmacy, Nirma University, Ahmedabad, Gujarat, India
2ACG Pharma Technologies Pvt Ltd., Shirwal, 412801 India
3School of Pharmacy, Dr. Vishwanath Karad, MIT World Peace University, Pune, India
DOI :

10.29228/jrp.253
Orally disintegrating tablets, over the years, have become the preferred alternative to conventional tablets and capsule dosage forms because of better compliance. These are suitable for special populations like pediatrics, geriatrics, patient with dysphagia, patients with hand tremors, patients with frequent traveling, etc. The focus of this research was to mask the unpleasant taste of type 2 antidiabetic drug "Pioglitazone Hydrochloride" followed by designing an orally disintegrating tablet of the same. Taste masking was accomplished using a pH-independent polymeric dispersion of ethylcellulose i.e. "Surelease E-7-19040" in combination with a Hypromellose-based ready-to-coat film coating system i.e. "Opadry YS-1-19025-A" in a different ratio. Uncoated powder, coated granules, and prepared tablets of Pioglitazone Hydrochloride were investigated for in-vivo taste evaluation and flow as well as compression behavior, Fourier Transform Infrared spectra, scanning electron microscopy, powder X-ray diffraction, and in-vitro dissolution, disintegration properties. The study demonstrated the use of 32 full factorial design study to identify optimal ratio of pore former in Surelease and Opadry polymeric coating combination to achieve desired taste masking of unpleasant Pioglitazone Hydrochloride without any impact on immediate release characterstic of the orally disintegtrating tablet formulation. It further demonstrated that, an increase in pore former concentration resulted in a lower rating by human volunteers indicating relatively more bitterness, however, an increase in percent weight gain resulted in a higher rating by human volunteers indicating efficient taste masking.
Keywords :

Taste masking; orally disintegrating tablets; coating; polymeric dispersion; direct compression