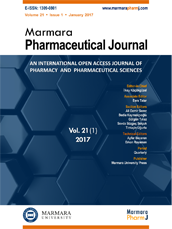 Editor-in-Chief
Hatice Kübra Elçioğlu
Vice Editors
Levent Kabasakal
Esra Tatar
Online ISSN
2630-6344
Publisher
Marmara University
Frequency
Bimonthly (Six issues / year)
Abbreviation
J.Res.Pharm.
Former Name
Marmara Pharmaceutical Journal
Journal of Research in Pharmacy
2022 , Vol 26 , Issue 5
Which Humulus lupulus drug samples meet the European Pharmacopoeia criteria: Cultivated, obtained from the herbalists or online shopping sites in Turkey?
1Department of Pharmacognosy, Faculty of Pharmacy, Gazi University, Ankara, Turkey
2Department of Pharmacognosy, Faculty of Pharmacy, Duzce University, Konuralp 81620 Duzce, Turkey
DOI :

10.29228/jrp.222
Humulus lupulus L. (Hops), which belongs to the Cannabaceae family, originates from Asia and grows naturally in geographies with temperate climates such as Europe and North America. H. lupulus might have been brought to Turkey from Germany to be used mostly in beer production. The plant is also used for medicinal purposes due to its sedative and phytoestrogenic effects all over the world. Pharmacopoeia analyzes are important to confirm whether the subject drog has the properties specified in the pharmacopoeia in order to check its suitability before it is used for health purposes. For this reason, we aimed to evaluate features of the variety of hops plants: 1-cultivated in Bilecik/Turkey; 2-sold by herbalists and sold on online shopping sites. Obtained samples of hops were analyzed according to the 'Lupuli flos' monograph provided within the European Pharmacopoeia 8.0 (EP 8.0). Macroscopic, microscopic, thin-layer chromatography, matter extractable by ethanol, loss on drying analyzes and determination of total ash amount of the samples were conducted according to the EP 8.0. As a result, the hop samples, except those cultured in Turkey, were not suitable for the EP 8.0. Legal controls should be provided by the authorities on herbals sold by herbalists and on the internet. Samples of hops cultured for use in beer production in Turkey were suitable for pharmacopoeia. These samples should meet the public at secure sales points or in food supplements in Turkey.
Keywords :

Humulus lupulus; hops; European Pharmacopoeia; Cannabaceae; herbalist