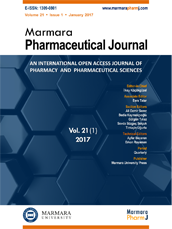 Editor-in-Chief
Hatice Kübra Elçioğlu
Vice Editors
Levent Kabasakal
Esra Tatar
Online ISSN
2630-6344
Publisher
Marmara University
Frequency
Bimonthly (Six issues / year)
Abbreviation
J.Res.Pharm.
Former Name
Marmara Pharmaceutical Journal
Marmara Pharmaceutical Journal
2016 , Vol 20 , Issue 3
Natural two Taraxacum species effective against frameshift and base pair substitution mutations: mutagenic, antimutagenic and antioxidant evaluation
1Selçuk Üniversitesi, Sağlık Hizmetleri Meslek Yüksekokulu, Tıbbi Laboratuvar Programı, Konya, Türkiye
2Selçuk Üniversitesi, Fen Fakültesi, Biyoloji Bölümü, Konya, Türkiye
DOI :

10.12991/mpj.20162068040
Plant or plant products have gained increasing importance in pharmacology and food industries in recent years due to their lower toxicity and side effects. The genus Taraxacum belonging to Asteraceae family have been used in traditional medicine since ancient times. In this study, antioxidant, mutagenic and antimutagenic properties of two Taraxacum species namely T. mirabile and T. farinosum were investigated. Antioxidant properties were determined by different test systems including DPPH radical scavenging, reducing power (CUPRAC and FRAP assays) and phosphomolybdenum assays. Total phenolic and flavonoid contents were also reported. Mutagenic and anti- mutagenic activities were tested by Ames assay. It was seen that Taraxacum species have moderate antioxidant and antimutagenic activities ranging between moderate to strong. However, the species were found to be non-mutagenic. It was determined that total phenolic and flavonoid contents in T. mirabile (23.43 mgGAE/g extract and 4.58 mgRE/g extract) were higher than T. farinosum (17.54 mgGAE/g extract and 3.37 mgRE/g extract).
Keywords :

Taraxacum mirabile, Taraxacum farinosum, antimutagenic, pharmaceuticals