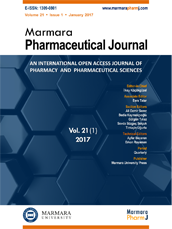 Editor-in-Chief
Hatice Kübra Elçioğlu
Vice Editors
Levent Kabasakal
Esra Tatar
Online ISSN
2630-6344
Publisher
Marmara University
Frequency
Bimonthly (Six issues / year)
Abbreviation
J.Res.Pharm.
Former Name
Marmara Pharmaceutical Journal
Journal of Research in Pharmacy
2023 , Vol 27 , Issue 1
Nanoemulsions a New Topical Drug Delivery System for the Treatment of Acne
1Department of Pharmaceutical Technology, Faculty of Pharmacy, Dicle University, Diyarbakır, Turkey
2Department of Pharmaceutical Technology, Faculty of Pharmacy, Istanbul University, Istanbul, Turkey
3Department of Pharmaceutical Technology, Faculty of Pharmacy, Biruni University, Istanbul, Turkey
DOI :

10.12991/jrp.2019.00
The main aim of this review is to investigate published research that related nanoemulsions formulations as the for improving of acne and to evaluate the recent developments and future of nanoemulsions for acne care. Nanoemulsion, skin penetration, acne vulgaris, topical drug delivery using as keywords were sequentially searched three databases (PubMed, ScienceDirect, Google Scholar). Following the removal of duplications and irrelevant results, research articles and reviews were included in the final literature overview. Systemic therapy includes anti-inflammatory and antibiotics drugs that can bring on undesirable adverse. On the other hand, the low solubility in water of the drug and insufficient penetration through the skin limits the drugs' topical administration. Innovative topical nanoemulsion systems can be very impactful to decrease the side effects of drugs and provide tremendous drug penetration through the skin. They provide advantage over traditional topical medications by enhancing bioavailability of drugs, and the persistency of drugs in the skin layers. Furthermore, nanoemulsions have significant potential to overcome the drawbacks of the conventional dosage forms contains natural molecules and essential oils for acne therapy. Additionally, some comparative studies showed that nanoemulsions increase the permeability of the drug molecule through the skin more than other nanocarriers (SLN, NLC).
Keywords :

Acne vulgaris; drug delivery; nanocarriers; nanoemulsion; skin penetration; topical