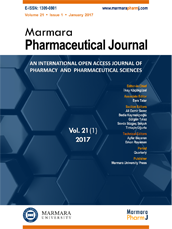 Editor-in-Chief
İlkay Küçükgüzel
Associate Editor
Aslı Türe
Online ISSN
2630-6344
Publisher
Marmara University
Frequency
Bimonthly (Six issues / year)
Abbreviation
J.Res.Pharm.
Former Name
Marmara Pharmaceutical Journal
Journal of Research in Pharmacy
2020 , Vol 24 , Issue 3
Formulation and evaluation of antifungal activity of gel of crude methanolic extract of leaves of Ipomoea carnea Jacq
1Department of pharmaceutics, Faculty of pharmacy, L.R. Institute of pharmacy, Solan, India
DOI :

10.35333/jrp.2020.159
In the last few decades, there has been an exponential growth in the field of herbal medicine. It gets popularized in developed and developing countries owing to its natural origin and lesser side effects. In this experimental study, herbal gel containing Ipomoea carnea Jacq. methanolic leaf extract was formulated and evaluated for antifungal activity. The base was prepared by using carbopol 934, propylene glycol 400, methyl paraben, propyl paraben, triethanolamine and required amount of water in a quantity sufficient to prepare 100 g. Different gel formulations were prepared by varying the carbopol 934 concentration (0.8 and 1%), plant extract concentration (2, 4 and 6%) and lavender oil (0.5 and 1%). Eight gel formulations were prepared and evaluated for physicochemical tests that was colour, pH, viscosity, spreadibility, extrudability, homogeniety and screened for their antifungal activity by agar well diffusion technique for zone of inhibition. The formulation F8 showed zone of inhibition 32 ± 1, 17.67 ± 1.15, 18.67 ± 0.57, 26 ± 1 mm against Aspergillus niger, Candida albicans, Rhizopus species and Penicillium notatum respectively greater than marketed preparations. Skin irritation study (patch test) was carried out on wistar rats with F8 formulation which did not exhibit any clinical signs hence the gel was considered safe and non irritant. The gel can be used in the treatment of vaginal candidiasis, candidiasis of the skin, cutaneous aspergillosis, facial skin manifestations by Penicillium, cutaneous mucormycosis and other skin infections.
Keywords :

Ipomoea carnea; antifungal; carbopol 934; extrudability; skin irritation; vaginal candidiasis