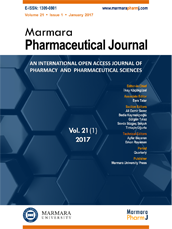 Editor-in-Chief
İlkay Küçükgüzel
Associate Editor
Aslı Türe
Online ISSN
2630-6344
Publisher
Marmara University
Frequency
Bimonthly (Six issues / year)
Abbreviation
J.Res.Pharm.
Former Name
Marmara Pharmaceutical Journal
Journal of Research in Pharmacy
2021 , Vol 25 , Issue 2
Evaluation of the knowledge, attitude, and behaviors of physicians and pharmacists regarding the use of medicines in pregnancy
1Department of Medical Pharmacology, Faculty of Medicine, Marmara University, Maltepe 34854 İstanbul, Turkey
2Department of Public Health, Faculty of Medicine, Koç University, Sariyer 34450 İstanbul, Turkey
DOI :

10.29228/jrp.12
Pregnancy is a critical aspect of rational use of medicine (RUM) and imposes important responsibilities on the parties. This study aimed to analyze the knowledge, attitudes, and behaviors of the physicians and pharmacists regarding pharmacotherapy in pregnancy. The data were collected between April 2016-July 2017 by questionnaires and analyses of the prescriptions in Northern Cyprus. Simulated prescriptions (n=50) for pregnant women (PW) were applied at pharmacies, and pharmacists' (n=95) and obstetricians' (n=30) attitudes were evaluated through surveys. In addition, PW prescriptions (n=122) were collected from pharmacies and evaluated. All data were re-obtained after one year. The mean number of drugs per PW prescription was 1.48±0.73. In teratogenicity risk evaluation, 6.6% of medicines were in "D/X" and 16.7% were in "C" categories. The ratio of these three categories medicines in scripts was about eight times higher than which was considered as teratogenic based on physicians' opinions. Serious shortcomings were found in writing the format information in prescriptions. In simulated prescription analysis, mean dispensing time was 3.3±2.3 min. Almost half of the pharmacists were observed to give the drug requested by simulated PW without any confirmation of the prescription. The dispensing performances of the pharmacists were mainly different than their related statements on the survey. Our study highlighted the deficiencies in physicians' and pharmacists' RUM knowledge, attitudes, and behaviors in pregnancy, where the gaps seem unchanged after one year. These findings underline necessity of education and counselling service interventions for healthcare providers to disseminate RUM in pregnancy.
Keywords :

Pharmacist; pregnancy; prescriber; prescription simulation; teratogenicity