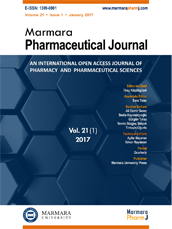 Editor-in-Chief
İlkay Küçükgüzel
Associate Editor
Aslı Türe
Online ISSN
2630-6344
Publisher
Marmara University
Frequency
Bimonthly (Six issues / year)
Abbreviation
J.Res.Pharm.
Former Name
Marmara Pharmaceutical Journal
Marmara Pharmaceutical Journal
2017 , Vol 21 , Issue 1
Formulation and Evaluation of Orally Dispersible Tablets of Chlorpheniramine Maleate By Fusion Method
1Department of Pharmacy, Banasthali University, Banasthali, Rajasthan, India
2Shambhunath Institute of Pharmacy, Jhalwa, Allahabad, Uttar Pradesh, India
DOI :

10.12991/marupj.259883
Many conventional dosage form comes in market to achieve their therapeutic value as it administered through the given route. But sometimes People feel trouble in swallowing of conventional dosage forms like tablet and capsule without taking water or due to lack availability of water during long journey. In these cases, rapidly disintegrating tablets in oral cavity are paid attention nowadays. These are known as orally dispersible tablets which disintegrate in mouth as put on tongue resulting in release of drug which dissolve and disperse in saliva. Drug rapidly converts into solution from solid form resulting in rapid absorption and onset of action. After formulations development, evaluation of these tablets were done such as weight variation, hardness, friability, disintegration, drugpolymer interaction, FTIR studies, SEM studies, drug content, water absorption ratio, wetting time and in-vitro drug release and short term stability studies. These tablets (all formulations that is F1-F10) showed weight variation in range of 253± 0.05 to 291± 0.61 mg, hardness of 2.1± 0.1 to 3.5± 0.07 Kg/cm², friability of 0.44±0.01 to 0.69±0.01%, disintegration time of 20± 0.08 to 34±1.1 seconds, drug content of 92.0 to 99.18%, water absorption ratio of 26±1.12 to 49 ± 3.01 %, wetting time of 53± 1.89 to 104± 4.89 sec and in-vitro drug release showed 85.66 to 99.88% within 5 minutes. FTIR studies showed that there is no interaction between drug and polymer. Stability studies showed that there is no change in drug release upon storage on different temperature and humidity. Results revealed that orally dispersible tablets of chlorpheniramine maleate prepared by fusion method result in rapid dissolution.
Keywords :

Chlorpheniramine maleate; Fusion method; FTIR; SEM; Full factorial design